Emily Anderbery
Actress, Keira Knightley posed topless in Interview magazine which was published in the first week of November. Knightley refused to have her body photoshopped or enhanced for her spread in the magazine.
In a recent Times interview, Knightley justified her decision. "I've had my body manipulated so many different times for so many different reasons, whether it's paparazzi photographers or for film posters."
"That (shoot) was one of the ones where I said: 'Okay, I'm fine doing the topless shot so long as you don't make them any bigger or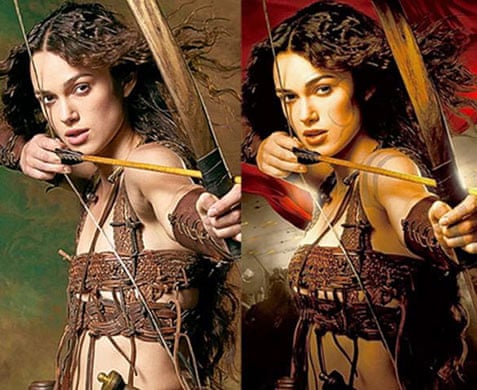 retouch.' Because it does feel important to say it really doesn't matter what shape you are," Knightley went on to state.
Last week Kim Kardashian released nudes to the public in an attempt to "break it the internet." Mickey Boardman, creative director of the Paper, said to US Weekly that the photos were only altered slightly and no extra meat was added or taken away.
Dr. Victoria Karlinsky who is a plastic surgeon at New Look New Life on the Upper West Side said to the NY Daily News, "Certainly, the Paper magazine images do not look real."
The images of Kardashian's body according to Karlinsky, are too disproportionate to ever exist. "(Kardashian) has absolutely no body fat. I can't imagine anyone having enough body
fat to create something like that."
NY Daily News concludes that Kardashian's nude photos were heavily altered and photoshopped.
Knightley's stand against photoshop is a stand against body standards, a stark contrast to Kardashian's release of photoshopped nudes. The two celebrities stand on opposite sides of the spectrum, in the battle of body image.
According to a study done by Oprah, 69.3% of teenagers are not happy with their appearance.
Kasey L. Sadar writes an article which explains the relationship between mass media and women's outlook on their body image. Sadar says " Mass media's use of such unrealistic models sends an implicit message that in order for a woman to be considered beautiful, she must be unhealthy. The mindset that a person can never be "too rich or too thin" is all too prevalent in society, and it makes it difficult for females to achieve any level of contentment with their physical appearance."
Sadar goes on to write about how concern over weight and body type goes with a person for the rest of their lives.
Kardashian's unrealistic and unattainable body type is a form of the mass media that affects women and men. Knightley is taking a stand against a set body type, and showing the world that the body type you were born with is your own, and perfect.
Image courtesy of: theguardian.com